Unblocking Drains Brisbane
How to fix a Solid Blocked Drain
Many Plumbers have Electric Eels and Water Jetters to unblock drains . But what happens when the drain blockage is too solid for these to work? This could be a solid tree root, concrete or even steel. In other instances, you might have a failed pipe lining that needs to be removed.
A traditional plumber would have to dig up the blocked drain and repair it. But what if you don't want it dug up, or it can't be dug up? In this case you can use a robotic cutter.
Fix the Problem, Not just the Symptom
Unblocking drains with a robotic cutter
A robotic cutter is essentially a cutting head on the end of an air pipe that is rotated via compressed air. This cutting head is then sent down a blocked drain to the blockage where it will grind it away. The cutting head rotates at high speed, enabling it to cut through pretty much anything.
Reline Solutions have 2 different types of robotic cutters. These are:
DanCutter Robotic Cutter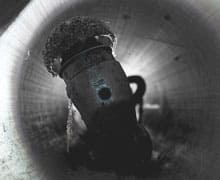 This robotic cutter is designed to go into pipes between 70-150 millimetres in diameter. It is pushed down into the pipe to the blockage manually where it is then controlled via the controller. This controller can rotate as well as lift the cutting head to give precision cutting.
This robotic cutter is perfect for most domestic sewer and stormwater pipes. We also use this a lot to cut out junctions etc when we do a pipe relining project.
Ka-Te Robotic Cutter
This robotic cutter is designed for pipes between 150-1050 millimetres in diameter. For this reason it is perfect for large stormwater and sewer pipes. The cutting head is attached to a crawler which is operated from the surface controller and driven down to the blockage.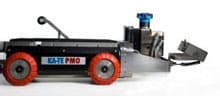 Robotic cutter in action
Below is a video we took of a failed Pipe Lining that we had to remove with a cutter ready for relining with our Brawoliner Inversion Pipe Relining solution.

BLOCKED DRAIN FAQ
How do you repair a drain under a concrete slab?
Having a drain that is blocked or needs repairing is disruptive enough, but what do you do if that drain is located under a concrete slab? There are a few different options available, but it is always suggested that you call in the professionals to help. If you need furthe...
How to Unblock a Drain
The seven ways to conquer a blocked drain The occurrence of a blocked drain in your home or office is a huge pain, no matter the day or time. If you are thinking that you would like to give a DIY option a go before calling in the professionals - we do not recommend this! - t...
Is the Landlord or Tenant responsible for a blocked or clogged drain?
Blocked drains can sometimes become complicated and confusing for most tenants and landlords due to the processes usually required in diagnosing these type of problems.  The issues may not always be prevalent in most circumstances until you get a plumber to check out why and where your bloc...
For more in depth blocked drain information visit our Blocked drain Information page