Plumbing Inspection Brisbane South
Need a comprehensive drain inspection in Brisbane Southside?
There are many different reasons to have a plumbing inspection at your Brisbane property. You may suspect you have a problem (slow or smelly drains) or you may be building an extension and need a CCTV Survey for the Brisbane Council. No matter what your reasons, Reline Solutions can help. We have several different pipe cameras, from simple push rod cameras for small diameter pipes to crawler drain cameras for large diameter pipes. So no matter how big or small your drain, we can do a thorough plumbing inspection for you.
Fix the Problem, Not just the Symptom
Plumbing inspections for small and large drains in Brisbane

There are many Plumbers out there with simple push rod drain cameras. These drain cameras are perfectly fine to see what is causing a blockage in your drain but are not ideal if you want a proper plumbing inspection. Their camera is not high resolution enough for checking faults and cracks in your pipe. Not to mention, if it is a large diameter pipe these drain inspection cameras have real difficulty getting pushed down and have insufficient control to check all areas of the pipe.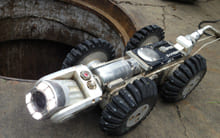 Reline Solutions has a range of different CCTV Drain Cameras for all pipe sizes, from small residential drains through to large Council stormwater drains. The Crawler camera is self-propelled allowing us complete control in larger diameter pipes. These drain cameras are not only colour but have full recording functionality for before and after comparisons.
Brisbane Southside Plumbing inspections Service Areas