Leak Detection Brisbane
We'll uncover your leaky drain issues
Uncover potentially destructive water leaks in your pipes, drains, and sewer lines with our state of the art CCTV drain inspection and leak detection equipment. Our team can accurately locate a pipe leak and carry out the necessary targetted repairs before large issues such as root intrusion, drain collapse, or structure subsidence occurs.
Please note - we don't carry out leak detection for water mains pipe lines or pressurised pipes. Drain and sewer pipes only.
Fix the Problem, Not just the Symptom
Reline Solutions provide comprehensive plumbing inspection services throughout Brisbane.
Finding cracks in underground pipes
Reline Solutions specialises in locating leaks in the underground sewer, stormwater, or drain pipes which run through your garden and often under your home. We provide trenchless drain repairs to fix the issue without needing to dig up large sections of your property.
Our team uses a CCTV camera to perform a complete inspection of the drain to uncover any cracks or breaks. Alternatively, we'll test the drain with pressure sensitive equipment which picks up variations in water pressure caused by leaks or cracks.
We're then able to repair the drain with a strong, structured fibreglass matting pipe patch, providing a permanent solution for any water leakage problems.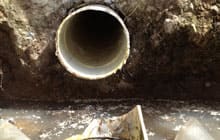 Drain water pipe leak detection in Brisbane
If you suspect a drain or pipe is leaking in or under your home don't ignore the problems as it can quickly lead to bigger issues.
Don't let water leaks erode your garden, weaken infrastructure, or allow drain blockages to occur. Contact Jason on 0403 355 550 or complete our quote request form for more information on pipe leak detection in Brisbane and the surrounding areas.
Please note - we don't carry out leak detection for water mains pipe lines or pressurised pipes. Drain and sewer pipes only.
PLUMBING INSPECTIONS FAQ
Managing the stormwater from your property
In South East Queensland it can rain. A lot. Which is why it's important that your property is equipped to handle a large downfall without flooding your or your neighbour's properties. The stormwater which comes off the roof of your buildings or the natural runoff from the land must be dire...
Why is drain cleaning important?
Your drains tend to be the last thing you think about when someone mentions cleaning. And that's perfectly understandable, our busy lifestyles often mean we priorities the things that are immediate to our daily routines. Jobs, like mowing the lawn, servicing the car, and vacuuming the house...
Why it's a good idea to get a plumbing inspection
Everyone knows it's smart to get a plumbing inspection on a property you are looking to buy but did you know getting a plumbing inspection on your own home every few years is a great idea too. Plumbing and drain inspections are a fantastic tool for homeowners as they ca...
For more in depth plumbing inspections information visit our Plumbing inspections Information page