Residential Pipe Relining
Is your home struggling with recurring blocked drains?
Repeated blocked drains can be a real hassle and can pose some serious hygiene issues. The last thing you want around your home is raw sewage backing up from a drain which clogs up over and over again. But what do you do if the drain in question runs under the driveway, garage, or favourite rose bush? That's when you get Reline Solutions involved. We offer no dig drain repairs; which means that we can unblock and repair blocked drains without having to dig up your property.
Book Pipe Relining Today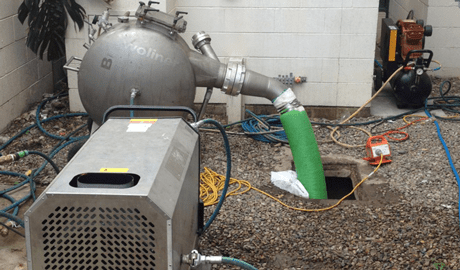 Fixing drains without digging
In the past, if you had a blocked sewer or drain, you would call a plumber who would take an educated guess at the location of the blockage, and start digging. Not anymore; we use the very latest trenchless technology for drain repairs.
Firstly, we can inspect the drain with a specialist CCTV drain inspection camera to find out what is blocking the pipe and the exact location of the clog. Our team can then clear the blockage and repair the pipe so it doesn't happen again and again. Using trenchless processes we can carry out most of this work without needing to dig up your garden or disturb established structures.
This means minimal disruption to your household and no need to destroy your gardens, driveway, or fencing etc.
Drain Services
Our drainage services also include:
Residential pipe relining solutions
Our experienced, professional technicians cover all of South East Queensland offering our residential drain services to:
Professional pipe relining and repairs
Contact Reline Solutions on 0403 355 550 or complete our online quote request form today for professional blocked drain repairs, no dig pipe relining, plumbing inspections or any of our services around your home.