Pipe Relining Gold Coast
Long lasting drain relining solutions
Reline Solutions are specialists in pipe relining on the Gold Coast. We use only the latest and very best technology to navigate your sewer or drain, without the hassle of digging, and to then identify and fix any problems with minimum disturbance to your property.
Our specialist services are available throughout the Gold Coast; from Tweed Heads to Coomera, Robina to Helensvale and all suburbs in between.
Book Pipe Relining Quote Today
We have all your pipe relining needs covered on the Gold Coast, Brisbane, Toowoomba, and the Sunshine Coast.
What is pipe or drain relining?
Pipe or drain relining is used when an existing pipe develops a leak or crack. This is most commonly caused by tree roots growing through small cracks to gain access to water and can cause repeated blocked drains.
In many cases, your plumber will remove the roots and any other obstruction with an eel or water jet, however, as the crack remains and the roots will continue to grow back again and again.
Our team have a long lasting solution to this issue. We can locate and repair the cracks in your pipe with trenchless pipe lining.
The process we use will fix the broken section without the need to dig up and completely replace the pipe. This will save you time, money and the inconvenience of having areas around your home or business excavated.
After clearing the pipe using water jetting or robotic cutting, the area can be repaired by inserting a long-lasting pipe lining to cover the break or cracked section. With the pipe relining in place the drain will often be structurally stronger than the original pipe.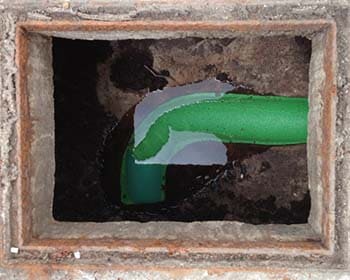 When can you use pipe relining?
Providing the existing pipe is structurally sound, with only cracks or leaks, we can fix it with a drain lining. In the past, if there were any leaks or cracks in your sewer or drain pipe, a plumber would have to dig it up to either repair or replace it.
However, this is can be a major operation, particularly when the pipes travel under a permanent or even semi-permanent structure, such as a driveway, footpath, garage or building. The process would involve removing or jackhammering through the structure to gain access to the pipe, replacing the cracked piece then rebuilding the structure. The whole process was costly, time-consuming and often a huge disruption.
Quality, long-lasting pipe lining
Not all pipe relining solutions are the same, there are many products on the market which are second-rate quality and bubble or flake quickly. Our team use an independently tested German engineered pipe lining product which offers a 50-year solution to your drainage problems.
Your local pipe relining specialist on the Gold Coast
If you have a constantly blocked, cracked or leaking pipe or drain on the Gold Coast contact our team for long lasting repairs on 0403 355 550 , or simply complete our pipe relining quote form and we'll contact you.
We also offer a range of drain repair, clearing, and inspection services on the Gold Coast including:
We can help with your pipe relining issues in Gold Coast.