CIPP Pipe Relining Solutions
Small and large pipe and drain repair options
Pipes and drains come in all different shapes and sizes with a huge range of problems and repair needs, every job we attend is different. There is no one system to solve all issues. Which is why our drain repair solutions include a selection of methods and systems to tackle even the most tricky repair job.
Fix the Problem, Not just the Symptom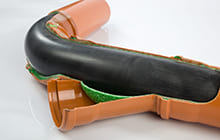 Pipe patching
Patch repair is a system that allows you to repair a small section of pipe. A ʻpacker' is inserted into the pipe and pulled, or pushed to the area that is to be repaired. On the outside of the packer is a fabric that has been impregnated with a resin. This fabric varies from fibreglass to felts and woven liners of all sizes and lengths depending on the application.
Once in position, the packer is filled with air and the fabric is forced on to the inside wall of the pipe, forcing resin into all of the cracks and collars. Once the resin has cured, the packer is removed and a sleeve is left inside the existing pipe.
Find out more about our pipe patching services.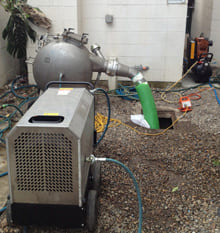 Inversion pipe relining
The Brawoliner Inversion system is year after year, voted Europe's #1 small bore relining system. Engineered and manufactured in Germany, this piece of equipment is the ʻRolls Royce' of inversion units and is the number one choice for leading reliners all over the world.
The Brawoliner, which comes in various diameters, is wound onto the drum and with the aid of compressed air is inverted into the drain. This system allows entire lengths of damaged drain to be repaired at a time.
Find out more about our Inversion Pipe Relining services.
PIPE RELINING FAQ
Is all pipe patching the same?
As with all things on the market today, there is the good, the bad, and the just plain useless pipe patching services and products. Many pipe and drain repair companies or plumbers who offer the service are mistakenly (or not) using the wrong product for the job. Others have possibly...
Is pipe relining worth it?
Sewer pipe relining Pipe relining is a modern method that plumbers use to fix broken pipes, especially pipes located below driveways or in areas that are difficult to reach. As this new way of fixing broken pipes has become more common, many pose the question; is pipe relining really wor...
Most Common Problems With Clay Pipes
Most cities in Australia have, at one point or another, used clay piping. Whilst at the time that was the standard plumbing pipe, these days we have other better options available to us, such as PVC. A lot of older style homes with older pipes have been replaced but there are still a...
For more in depth pipe relining information visit our Pipe relining Information page