Pipe Relining Brisbane Southside
Complete pipe relining services Brisbane South
Are you struggling with a drain that just keeps blocking up? Feel like you're wasting time and money clearing the drain over and over? We have a solution. Our team specialises in providing drain repair services using long lasting pipe relining technology which allows us to permanently fix the pipe, preventing future blocked drains.
Reline Solutions experienced team offers professional pipe relining services across the entire Brisbane Southside area. Speak to our pipe lining specialists about your drain repair needs today.
Fix the Problem, Not just the Symptom
Reline Solutions are the pioneers of trenchless pipe repairs and pipe relining in Brisbane. Over the years we have invested in the best technology around to ensure that our drain relining is second to none. Call Jason on 0403 355 550 to discuss your project.
The process of relining pipes
The aim of pipe relining is to repair broken or damaged drain pipes without needing to dig or excavate large areas of your property. This makes it an ideal solution when the cracked pipe is located beneath infrastructure that you'd rather not dig up (or it would be very costly to do so) such as sewer and stormwater pipes under a concrete slab, driveways, roads, houses, pathways, retaining walls, or established landscaping.
The pipe relining process allows for very targeted repairs, reducing disruption and minimising the work involved. One of our pipe lining technicians will first inspect the drain using a specially designed drain camera to pinpoint the problem area as well as the extent of the damage. This information is used to decide on the method of repairs. This would be either pipe patching for small sections or for larger lengths of broken pipe.
A section of resin impregnated pipe liner is then passed along the pipe to the damaged area and inflated to adhere the liner to the inside of the broken pipe. The liner is cured in the pipe causing it to harden and create a durable new pipe inside the old one.
Find out more about the Pipe Relining Process .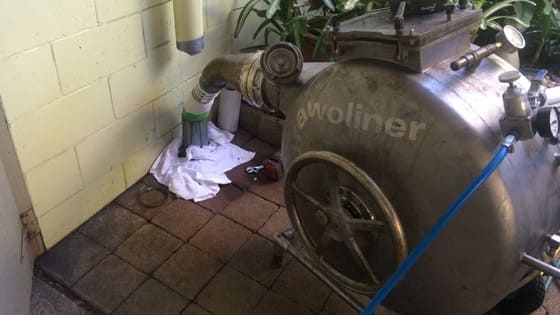 How much does pipe relining cost?
The cost of pipe relining varies depending on a few factors such as the length of pipe that needs to be repaired, the location of the pipe, as well as its diameter. We can provide you with a customised quote for your drain repair job.
Keep in mind that not all pipe relining products are equal. Some products, such as the Brawoliner pipe liner system we use, are manufactured to last more than 50 years providing a long lasting repair solution. However, there are many other options available which can fail after only a short period of time. (We know, we've had to replace a lot of failed pipe lining.)
Why use Reline Solutions for your pipe lining on Brisbane Southside?
We're industry professionals specialising in complete blocked drain repairs and pipe relining.
We have the equipment on hand to provide fast, effective pipe reline services to get your drain repaired without delay.
Our team can repair a range of pipe sizes from DN 50 to DN 250.
We've been servicing the Brisbane Southside area for many years relining pipes in residential, strata, and commercial properties across the region.
Your local pipe relining specialists Brisbane Southside
For long lasting pipe and drain repair services throughout Brisbane Southside contact the team of pipe relining specialists at Reline Solutions at 0403 355 550 or complete our quick online pipe relining quote request form today.
Brisbane Southside Pipe relining Service Areas