Pipe Patching
Fix damaged drains with a pipe patch

When you have a damaged pipe, in most cases it is just a section that is damaged. This may be a crack caused by the earth or foundations shifting around the pipe creating pressure on a specific point. The first you know about this is when your drain becomes blocked .
In many cases, plumbers will only remove the tree roots or blockage. But unless you repair the crack, the problem will reoccur, again and again. Doesn't it make sense to repair the cracked drain while you're at it?
Book A Drain Repair Expert Today
Reline Solutions for all your Pipe Relining needs.
Fixing pipes without digging
The last thing you want to do when you have a break in your drain pipeline is to have to dig it all up to replace the damaged section. In many cases, this is impossible due to the drain being under house foundations or under driveways etc. This is where pipe patching comes in.
Our team can identify cracks etc in your drains, as well as repair them without the need to dig up the pipe by using a structured pipe patch. The patch made from fibreglass matting that has been impregnated with a specially formulated silicate resin.
Once we have prepared the correct length of pipe patch with the resin, we deliver it to the damaged section of the pipe using a specially designed DrainPacker. When in place, the DrainPacker inflates ensuring a good fit until the resin cures to a solid structural lining.
Not all pipe mending is the same
We utilise top quality Trelleborg Epros Pipe Patch materials and equipment. This is a German company with international recognition as one of the best. Here are just some of the pipe patch benefits:
Excellent adhesion to most pipe materials, including vitrified clay, plastic, and steel.
Handles both extremely high and low temperatures.
Good resistance to acids and caustics.
Structural, meaning it will help strengthen a weakened section of pipe.
Designed for a 50-year life expectancy (fully tested independently).
Don't assume that all pipe patching is the same. Below is an image of a pipe we had to reline after a competitors' liner failed.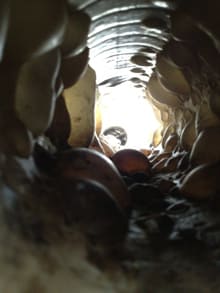 If you need to repair a damaged drain or sewer, simply call Jason on 0403 355 550 or fill in a quote request form for long term quality solutions.