Blocked Drains
Need help with your blocked drain?
Reline Solutions offer a full blocked drain and drain repair service throughout Brisbane. We can not only locate and identify the drain blockage, clear it, fix it permanently so you don't have the same issue in 6 months time, in most cases without extensive digging.
Fix the Problem, Not just the Symptom
What causes blockages?
There are 2 main causes.
The most common cause of a clogged drain is due to plant roots getting into your pipe and thriving in the wet environment. These roots either become thick enough to cause the blockage themselves or more likely they trap solids coming down the drain until it becomes clogged.
The second cause is due to solids being flushed down your drain and becoming trapped. The common solid here is kitchen fat and grease but could be something accidentally flushed down your toilet. As pipes age, they can start to lose their smooth surface which allows waste water and solids to slip on by. The surface can become rough and as such solids (eg. toilet paper, grease etc) start to stick to the sides. This is particularly an issue with the older clay pipes.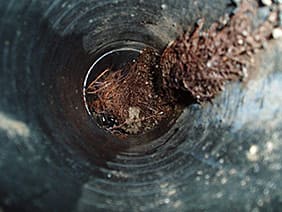 How do we clear blocked drains?
1. Inspect the blockage
We utilise the latest CCTV drain camera technology, which allows us to send a camera down your drain to locate and identify any blockages. Once we have done this we can work out the exact location, but more importantly the best way to fix the problem.
2. Clearing obstructions
If the drain is clogged due to foreign matter in the pipe such as tree roots and trapped solid waste (eg. grease), we can usually fix this with water jetting . This is where we insert a high-pressure water pipe with a specially designed jetter head down your drain to the blockage. We then use the high-pressure water to cut through the blockage with no damage to your pipe.
Important: There are a lot of water jetters being used that have been adapted from high pressure cleaning pumps. These can generate a high water pressure that can actually damage the pipes lining, therefore creating potential for future blockages. Our water jetters are purpose built and are low pressue, high flow to ensure no damage to your pipes lining.
3. Clearing solid obstacles
If the blockage is too substantial for our water jetting machinery to cut through we can send down the robotic cutter . This is a remote controlled device with a high-speed cutting head that can cut through almost anything. We can use this to remove foreign matter or maybe to cut out damaged sections of the pipe for repair.
4. Preventing future issues
Once we have found the drain blockage and cleared it we'll look at possible solutions to stop it happening again, and again. This usually means working out a way to repair the cracked pipe or fix the rough surface on your inside of the pipe. We could just dig up your pipe and replace it, but a better option is to consider pipe relining. Pipe Relining involves placing a tough pipe lining inside the existing pipe. There are several different ways that this can be done and Reline Solutions are the leaders in the pipe relining technology throughout south-east Queensland.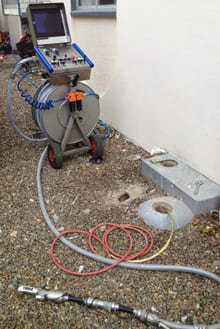 Your complete drain repair solution
Reline Solutions can locate and identify your drain blockage, fix the problem and then prevent future issues - all without digging up your property.
So if you have an overflowing or slow draining issue and need help to unblock it; give Jason a call on 0403 355 550 or fill in a Blocked Drain Quote to book a service.