Stage 1: Clearing Blocked Drains
Removing the drain blockage
The first stage in correctly unblocking a drain is to remove the blockage itself. This can be tricky for the plumber depending on where they blockage is located within the pipe as well as what type of blockage it is. Specialised tools are used to remove even the most stubborn of blockages.
Fix the Problem, Not just the Symptom
Blocked Drain Tools
Depending on the type of blockage will determine which tool will be best for the job. One of the first things most plumbers will do to remove the blockage is to dislodge it using a water jetter .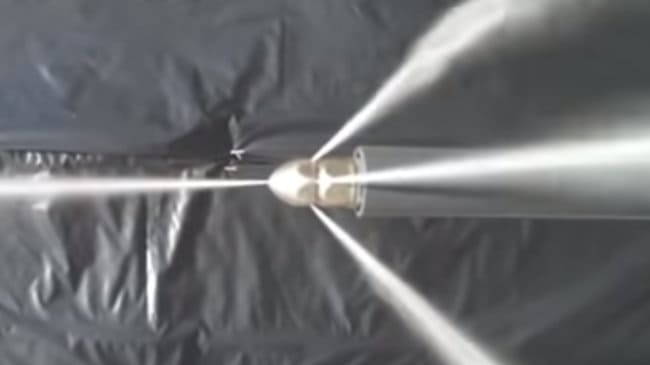 A water jetter (pictured above) is a high pressured water blaster. The water that comes out of a water jetter is extremely strong and is often enough to break down and dislodge any food scraps, soap scum, oils or other build up that is causing the blockage.
If for what ever reason the water jetter doesn't work or the blockage is stubborn such as small tree root intrusions, toys or even food scraps and hair the plumber may opt to using a drain auger otherwise known as a drain snake.

Drain augers are a rotary spring style rope that rotates at high RPM which can dislodge or break stubborn drain blockages. The multiple heads (pictured above) can be used to remove different types of blockages. For example the grease cutter head would be great at boring a whole through the middle of a fatberg. Switching from the grease cutter to a straight boring head could help to smash the fatberg into smaller pieces due to the spring end spinning at high velocity.
How plumbers Unblock Drains
There are only typically 5 reasons for a blocked drain with each having a different method required to remove the blockage. Below is the common reasons for blocked drains and how we deal with them:
Tree Roots: If caught early enough they can be cut and removed from the inside of the drain, however this isn't normally the case. If your drain is blocked by tree roots it is typically beyond simple removal. The entirety of the infected pipe will need to be removed and replaced with a new pipe section.
Foreign Objects: When a foreign object such as food scraps, soap scum and oils can typically be removed by a water jetter. In rare cases of a super stubborn foreign object a drain auger will dislodge the blockage and then a water jetter will be reinserted to clear the residual build up left over.
Misalignment / Breakages: When blockages are the result of a misalignment or pipe breakage the pipe will be cleared as best a possible with a water jetter then the pipe will be assessed to see what can be done. Typically replacement of the pipe section will be needed but in some lucky cases you may be able to get your pipe relined and save the cost of replacement.
Pipe Collapse: When a pipe collapses the only form of action is to replace the section of collapsed pipe. Pipe collapses are very rare with 1 in 1000 cases experiencing partial pipe collapse.
Soil Settlement If your blockage is due to soil settlement, the pipes will need to have a new gradient dug out for the pipe to lay in. This is slightly invasive but also extremely rare.
Once the blockage has been removed from the drain it is time to start looking at Stage 2: Blocked Drains Inspection.
Book a Blocked Drain Specialist
If you've just found out that you have a blocked drain then get in contact with our staff today on 0403 355 550 or alternatively you can fill in our online quote form and one of our staff will get be in contact with you in regards to your query.