Blocked Sewer Specialists
Get Your Sewer Lines Unblocked Today
Sewer blockages can cause serious health risks. They are an important component in the plumbing system and carry wastewater out from your property to the council's sewer pipes. So if there's any blockage in the sewer pipes, it can cause the wastewater to back into your property and pollute the clean water supply.
This is why time is of the essence and you need to get the sewer unblocked immediately. Our team of experienced professionals are here to clear your sewer blockage and get your system back up and running as quickly as possible. We have the latest technology and equipment to get the job done right – so you can rest easy knowing the safety of your loved ones is our top priority. Book an expert drainage plumber today.
Book an Expert Sewer Drainage Expert Today
5 Signs of a Blocked Sewer Drain
Knowing the signs of a blocked drain can go a long way in averting costly problems. Here are some signs of a blocked sewer line and what you could do to fix the problem.
A terrible stench coming from the drain inside or outside your property - if the smell persists and DIY drain cleaning remedies do not work, it could mean the sewer line is infested by tree roots or it may have a crack which is causing that horrible stench!
Frequently clogging drains - if you have cleaned the sink strainers and removed all the hair, soap and grease and still the problem hasn't gone away, there might be some other problem. Contact a licensed plumber to inspect the blocked sewer issue.
Sewage water backing up in your home - This problem could be because of an object obstructing the flow of water in the pipe. It could be due to a toy, wet wipes, jewellery or due to an external reason like tree roots intrusion or broken pipe.
Water draining slowly from the sinks or gurgling sounds coming from the drain - This could also be due to pipes blocked by hair, grease or food scraps. One way is to fix the problem is by removing the P-trap under the sink and cleaning all the debris stuck in the pipes. If it is a shower sink, you could try removing the hair by a coat hanger, for a toilet - a plunger should do the trick.
Multiple plumbing fixtures are blocked - If you see water backing up in your property if a toilet is flushed or when you run the dishwasher, kitchen sink backs up or the worst case - all the drains are acting up. This is a major sign for a complete sewer blockage. In this case, DIY remedies won't work at all and you should contact a plumber immediately.
We understand that a blocked sewer drain can be a major inconvenience. That's why we offer expert assistance, so you can get help when you need it most. We also offer a 100% satisfaction guarantee on all of our services, so you can be sure you're making the best decision for your home or business.Contact us today for more information or to schedule a free consultation!
How Do We Fix Blocked Sewer Lines
To fix a blocked sewer we usually work through the following steps:
1. Use a drain camera to identify the sewer blockage
Reline Solutions have the latest drain camera technology, that allows us to send either a Push-Rod drain camera or a self-propelled Crawler pipe camera (depending on the pipe diameter) down to see what is causing the sewer blockage. Once we have identified the blockage we can use the images to decide the best solution to clear the blocked sewer.
2. Clear away the sewer blockage
Now we know what the blockage is, we go ahead and use the best solution for unblocking drains. If the sewer blockage is an organic material such as sanitary products, toilet paper or small tree roots we will use our purpose built water jetter to send a high-pressure water jet through the blockage to break it up. Reline Solutions have a high flow water jetter that has been designed to clear away blockages at lower pressures and therefore not damaging pipe linings.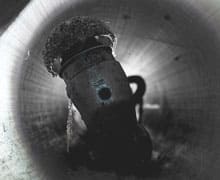 Warning: Many plumbers use water jetters with too much pressure that can strip the lining from inside ceramic pipes causing future problems.
If the sewer blockage is a bit more solid like larger tree roots, structural pipe damage and foreign objects, we might need to use our robotic cutters. These are high-speed grinder heads that are sent down sewer pipes to cut away any sewer blockage. They are capable of cutting through concrete and steel, so, therefore can work through any type of blockage.
What does sewer rehabilitation involve?
Sewer rehabilitation is transforming an old, damaged sewer system into something as good as new. So how do we do this:
1. Use a pipe inspection camera to perform a complete plumbing inspection.
We will send down one of our drain cameras to inspect all the sewer pipes and identify any problem areas. These issues are recorded in both location and recordings/images. Our team will then decide on the best solution to repair these problems.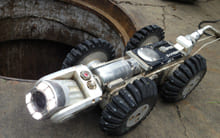 2. Any blockage and/or structural damage is repaired and sewer cleaning carried out
We use our water jetter and robotic cutters to remove any blockages and structural damage that may be impeding normal flow. We then use the jetter to clean all the sewer pipes.
3. Sewer relining
Sewer relining involves putting a new sewer lining on the inside of the pipes. Reline Solutions use 4 different methods of sewer relining depending on the sewer pipes, the problem, and the use. Find out more about our Pipe Relining Solutions.
4. Quality control for sewer rehabilitation
Finally, we need to make sure that our sewer rehabilitation is completed and the relining has taken fully with a complete seal. We do this firstly with a sewer camera inspection to make sure that all problem areas are properly repaired and that there are no obvious faults in the sewer relining. We then use a pressure test where we pump water into the sewer system and measure the pressure for any changes that may mean there is a leak.
This entire sewer rehabilitation and relining process can often be completed without needing to dig up the pipe.
Your Trusted Local Blocked Sewer Drain Specialists
If you have a blocked sewer or need a sewer rehabilitation and sewer relining, simply contact us on 0403 355 550 or complete our quote request form today.