Blocked Sewer Specialists
Specialist sewer rehabilitation and relining
Struggling with a blocked sewer? We can help, Reline Solutions are the sewer rehabilitation specialists; using the latest in trenchless technology we can fix sewer pipe from 150 mm to full-size sewer mainlines. This means that we can not only clear your blocked sewer but also undertake a complete sewer rehabilitation (including sewer relining); all without having to dig up your property. For your home, this means that you don't have the inconvenience of having your backyard dug up and for your business, it means we limit the impact on your day to day operation.
Fix the Problem, Not just the Symptom
How do you fix a blocked sewer?
To fix a blocked sewer we usually work through the following steps:
1. Use a drain camera to identify the sewer blockage
Reline Solutions have the latest drain camera technology, that allows us to send either a Push-Rod drain camera or a self-propelled Crawler pipe camera (depending on the pipe diameter) down to see what is causing the sewer blockage. Once we have identified the blockage we can use the images to decide the best solution to clear the blocked sewer.
2. Clear away the sewer blockage
Now we know what the blockage is, we go ahead and use the best solution for unblocking drains . If the sewer blockage is an organic material such as sanitary products, toilet paper or small tree roots we will use our purpose built water jetter to send a high-pressure water jet through the blockage to break it up. Reline Solutions have a high flow water jetter that has been designed to clear away blockages at lower pressures and therefore not damaging pipe linings.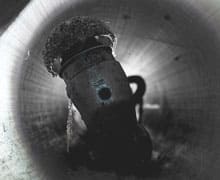 Warning: Many plumbers use water jetters with too much pressure that can strip the lining from inside ceramic pipes causing future problems.
If the sewer blockage is a bit more solid like larger tree roots, structural pipe damage and foreign objects, we might need to use our robotic cutters. These are high-speed grinder heads that are sent down sewer pipes to cut away any sewer blockage. They are capable of cutting through concrete and steel, so, therefore can work through any type of blockage.
What does sewer rehabilitation involve?
Sewer rehabilitation is transforming an old, damaged sewer system into something as good as new. So how do we do this:
1. Use a pipe inspection camera to perform a complete plumbing inspection
We will send down one of our drain cameras to inspect all the sewer pipes and identify any problem areas. These issues are recorded in both location and recordings/images. Our team will then decide on the best solution to repair these problems.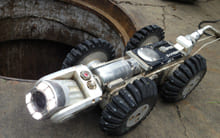 2. Any blockage and/or structural damage is repaired and sewer cleaning carried out
We use our water jetter and robotic cutters to remove any blockages and structural damage that may be impeding normal flow. We then use the jetter to clean all the sewer pipes.
3. Sewer relining
Sewer relining involves putting a new sewer lining on the inside of the pipes. Reline Solutions use 4 different methods of sewer relining depending on the sewer pipes, the problem, and the use. Find out more about our Pipe Relining Solutions .
4. Quality control for sewer rehabilitation
Finally, we need to make sure that our sewer rehabilitation is completed and the relining has taken fully with a complete seal. We do this firstly with a sewer camera inspection to make sure that all problem areas are properly repaired and that there are no obvious faults in the sewer relining. We then use a pressure test where we pump water into the sewer system and measure the pressure for any changes that may mean there is a leak.
This entire sewer rehabilitation and relining process is completed without needing to dig up the pipe.
Struggling with a blocked sewer in Brisbane?
If you have a blocked sewer or need a sewer rehabilitation and sewer relining contact Reline Solutions. Simply call Jason on 0403 355 550 or complete our quote request form today.