Why Use Reline Solutions
Why use our team for your pipe relining needs?
1. We identify, unblock and repair your blocked drain
2. We do it all with Trenchless Technology
In other words, we don't need to dig up your pipes. This is great if your plumbing runs under structures such as driveways, fences, retaining walls and even buildings. This avoids the often substantial cost of having to reinstate these structures, plus minimises the inconvenience and mess of excavation.
Fix the Problem, Not just the Symptom
3. We've invested in the very best Trenchless Technology systems
There is a big difference between the best and worst technology and products in this industry. There are many examples of poor quality pipe lining being used around the country and we've been called in to replace much of it within a few years of installation.
Our team have invested extensively in world leading German engineered pipe relining systems which provide a long lasting solution to drain problems. (50+ years independently tested).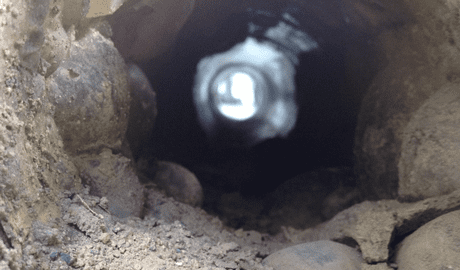 4. We have a wealth of experience
Reline Solutions has a wealth of experience in the plumbing industry and more importantly, in the pipe relining side of it. Jason has been a Plumber since 1993 and has been relining pipes for over a decade.
5. We can schedule work when it suits you
We appreciate that any business downtime can have a big impact on your profitability and productivity. Firstly, our trenchless technology systems and products mean we create fewer disruptions than traditional plumbing techniques. But more importantly, we can carry out our repairs when it has the least impact on your business. Find out more about our After hours pipe relining service.
6. Pipe relining with a free CCTV drain survey included
After our team complete pipe relining work on your property, we will carry out a CCTV drain survey for you free of charge.* This visual report provides documentation of our work and the condition of the pipes are after relining is complete.
7. Free quotes on diagnosed drain and pipe problems
If we perform a plumbing inspection for you and identify any issues, we will complete an obligation free quote to repair the issues uncovered.
8. We can work on pipes from 40 mm to 1350 mm
Our team utilise several different drain repair products which enable us to repair a range of pipe sizes, from small residential sewer pipes right through to large council stormwater drains.
9. Are you a plumber? We can work alongside your business
Our on-sell service offers our specialist drain services to be used as your own. Our team will attend the job on your behalf and work in conjunction with your business to provide the client with the best possible solution to their drain problems.
Your conditions, your rules, their experience. No need to invest in relining equipment yourself. We will effectively carry out the work for you while you either stand by or are out working on another job.
We specialise in 'no dig' pipe relining and repairs, so will not compete with you in any other plumbing area.
10. No job is too big or too small
We have helped fix drain and pipe issues in private homes, strata complexes, right through to Paul's Milk, the Airport Link Tunnel, and Moreton Bay Stormwater.
11. We are great guys to work with
Jason and the team are passionate about what we do and are driven to provide the best possible solution to all our customers, large and small.
Our trenchless technology services
*conditions apply, speak to our team for details